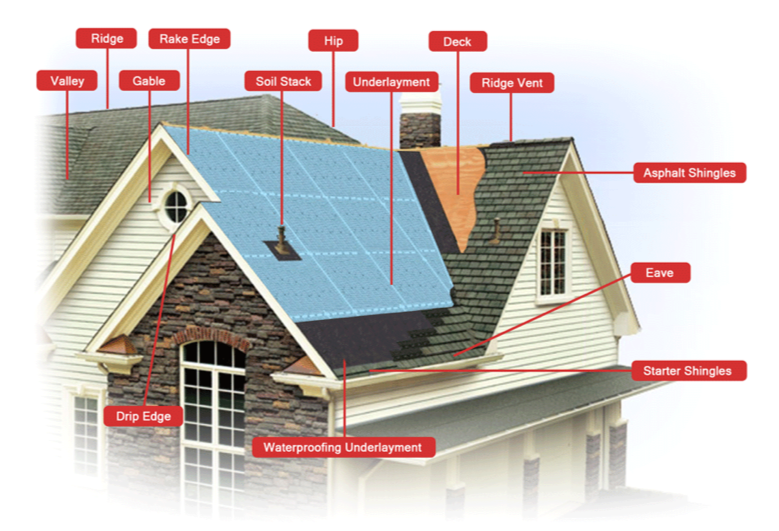 Valley – Area where two adjoining sloped roof planes intersect on a roof creating a "V" shaped depression.
Ridge – Highest point on a roof, represented by a horizontal line where two roof areas intersect, running the length of the area.
Gable – Traditional roof style; two peaked roof planes meeting at a ridge line of equal size.
Rake Edge – The exposed outer portion of a gable roof that extends from the eave to the ridge.
Soil Stack - Also know as a vent pipes, are pipes that extend from the waste pipes to the outside of the house, often going through the roof.
Hip – Is a type of roof where all sides slope downwards to the walls, usually with a fairly gentle slope.
Underlayment - Also know as "felt paper" is a water-resistant or waterproof barrier material that is installed directly onto your roof deck.
Deck – Is the layer of the roof that is used as the base for nailing roof coverings.  Also know as sheathing. Usually plywood, wood boards, or planks.
Ridge Vent – A type of vent installed at the peak of a sloped roof which allows warm, humid air to escape the attic.
Eave – The edges of the roof which overhang the face of a wall and, normally, project beyond the side of a building.
Starter Shingles - Are the initial shingle products installed on the roof, just before the first course of the finish shingles.
Waterproofing Underlayment  – Asphalt based rolled materials designed to be installed a minimum of 36" up from the gutter, in the valleys, and around all roof penetrations.
Drip Edge – A metal flashing that is installed at the edges of the roof to help control the flow of water away from the fascia and to protect the underlying roofing components.
Flashing – Materials used to waterproof a roof around any penetrations such as vents, chimneys, and skylights.